Post wear analysis of the cornea following orthokeratology is extremely important, and the corneal topographer is a vital tool in this process.
There are four main topographical outcomes following overnight wear (whether successful or unsucessful) of a myopic orthokeratology lens, which we will outline below.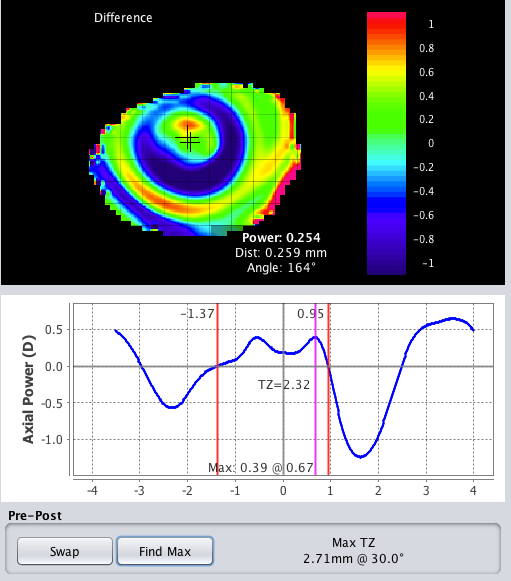 Tip: Your version of EyeSpace has preloaded example maps to demonstrate the post wear orthokeratology effect for those who are new to orthokeratology – just select "Reference Maps" from the practice list.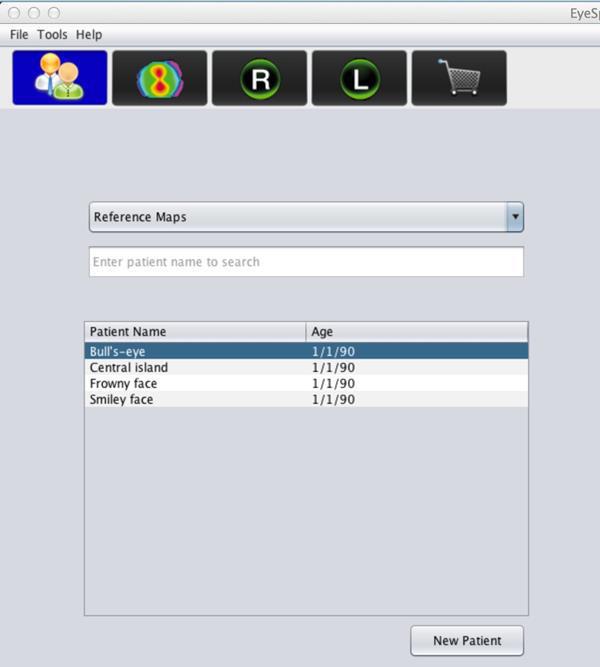 The Bulls eye
This is the ideal post wear orthokeratology pattern.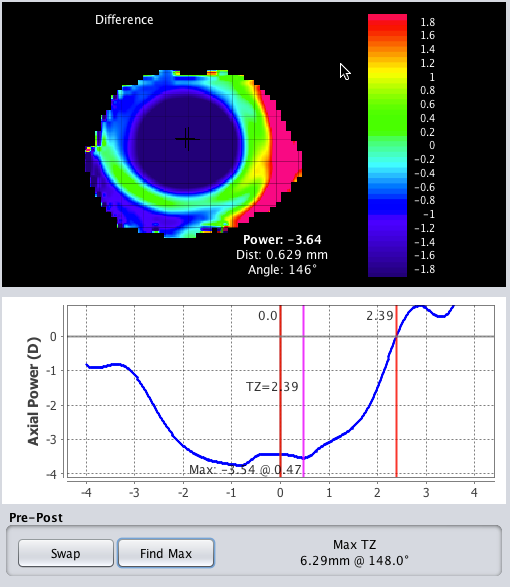 The Bulls eye is a well centered area of treatment following the overnight wear of an orthokeratology lens, it is typically well centered between the pupil margin and it is oblate in shape. Watch the instructional video to learn more about Bulls eye patterns.
The Central Island
Central Island topography maps may be noted after the first night of orthokeratology wear and are assessed by viewing the axial power difference map. Typically these show a central steepening surrounded by a blue ring.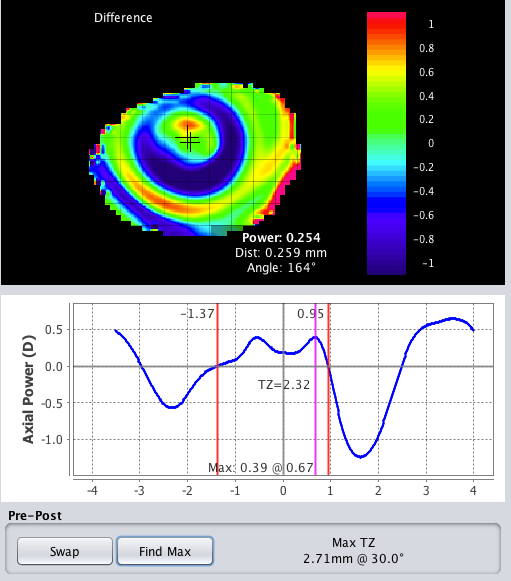 Central Island topography maps may develop due to the orthokeratology lens fitted too tight, fitted with too much sagittal depth (excessive apical clearance) or a combination of both. This can also be caused by a lens that is too small which limits the orthokeratology effect. Watch the instructional video to learn more about Central island patterns.
Smiley Faces
Smiley Faces are essentially the opposite to Central Islands. They are caused by a lens too low in sagittal depth or an alignment zone that is too loose, resulting in a high riding lens.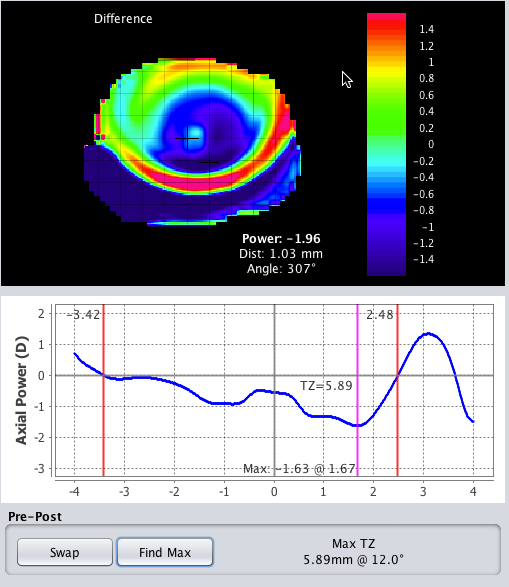 The axial power difference Map will show a high blue zone of treatment which results in a red "smile" type area of paracentral steepening, which is usually inside the inferior margin of the patient's pupil.
The best way to remedy this using a Forge lens is to evaluate the central corneal bearing, and increase it by altering the Z- zone (RC). Alternatively, tighten the alignment curve if there is no apical touch. Watch the instructional video to learn more about Smiley Face patterns.
Frowny Faces
These are typically representative of a low riding lens. The axial power difference map will show an inferior treatment effect (this is the blue area), whilst superiorly we will see steepening (the red area) resembling a frowny face, hence its name. Usually the steepening will occur within the pupil zone, as with the other types of orthokeratological response.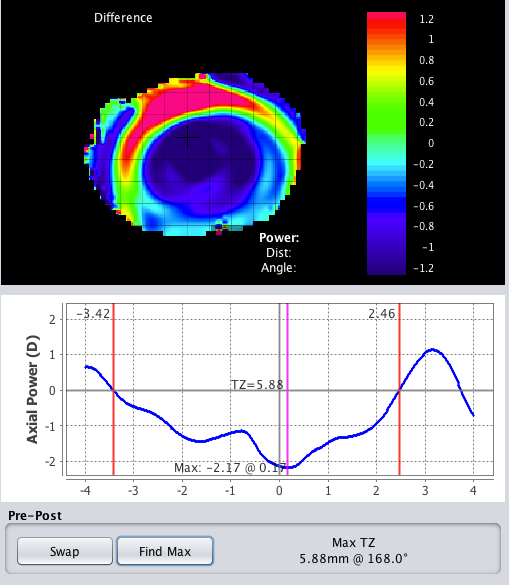 The frowny face is effectively a bulls eye with an alignment curve that is too tight or a diameter that is too large. To correct this outcome using the Forge lens design simply loosen the alignment curve or reduce the diameter of the lens. Watch the instructional video to learn more about Frowny Face patterns.