Innovative Contacts Australia is proud to be the platinum sponsor of the 11th Congress of the OSO!
Due to popular demand we are again running a full day clinical workshop on the Thursday before the conference (16th October) at the Sheraton Mirage Resort and Spa. To cater for both beginners and experienced contact lens practitioners, we are running three rooms with three separate programs, delivered by speakers from around the globe. The three programs are OrthoK Bootcamp, OrthoK Powwow, and Scleral Wet Lab.
For the full conference as well as our full day clinical workshop, be sure to book out Thursday 16th of October to Sunday 19th of October.
Update:
Price will be $385 including GST. Early bird 10% discount if you register and pay before June 30th!
Click here to register, or read on below for full details and lecture schedule.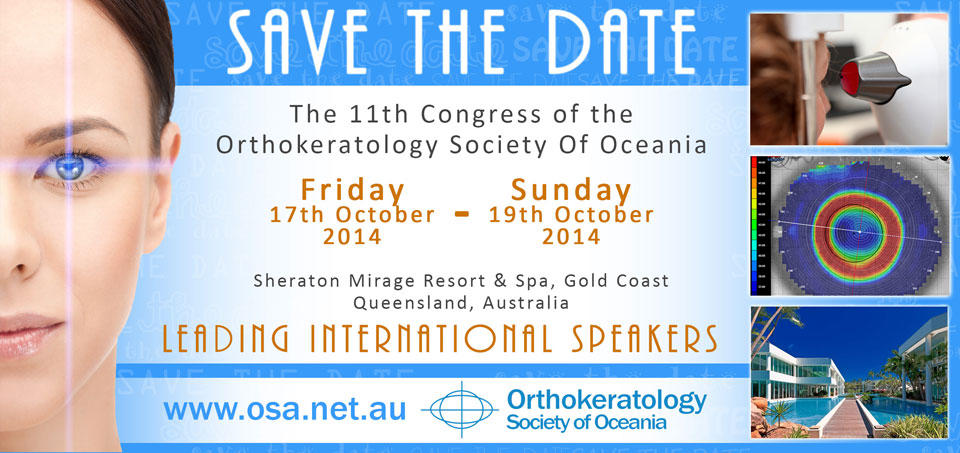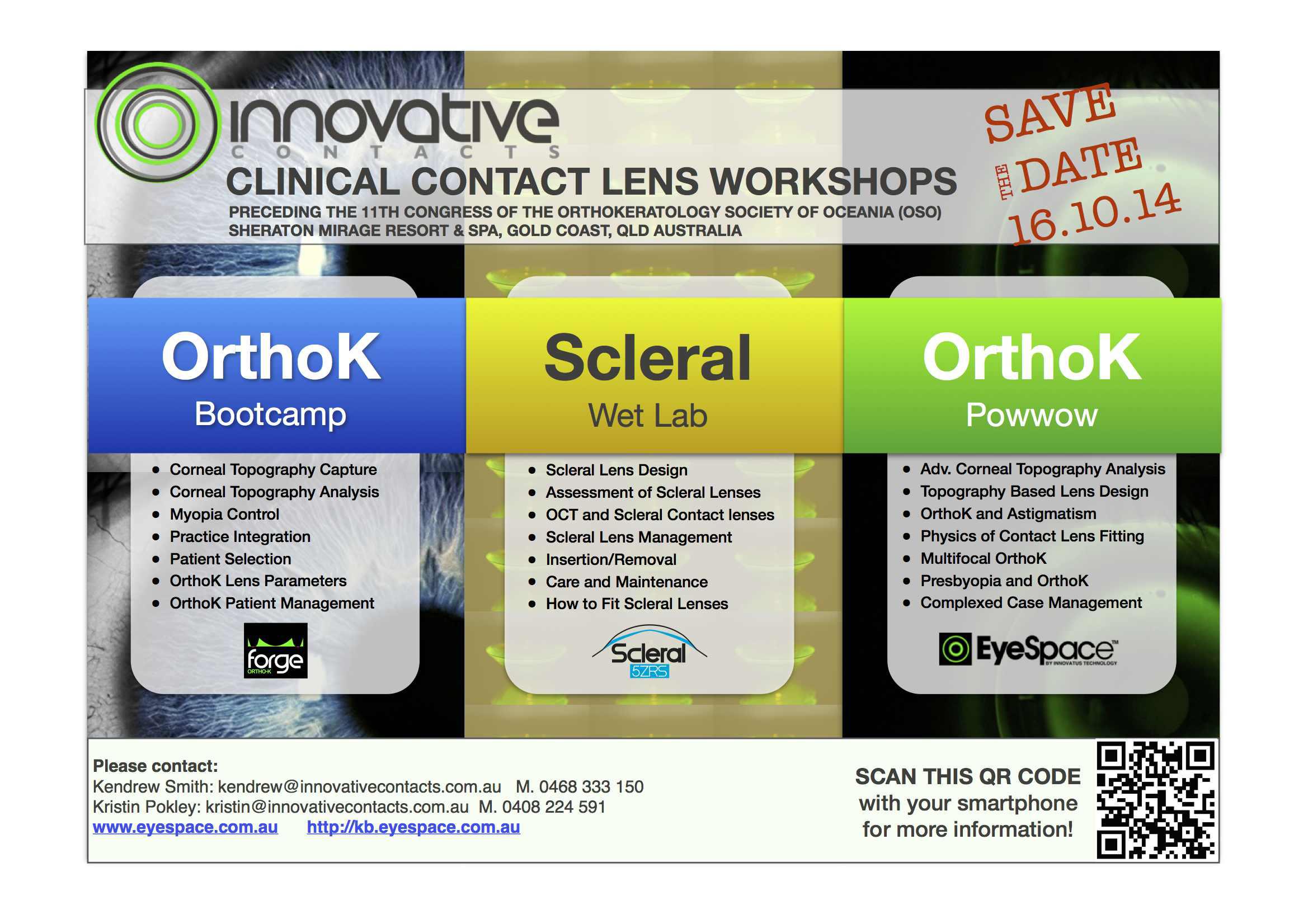 OrthoK Bootcamp
Beginners are encouraged to attend our OrthoK Bootcamp, where you can expect to get your hands dirty learning the art of corneal topography capture and analysis, patient selection, patient management, basics of lens design, and practice integration. We aim to leave you with all the tools and knowledge to confidently fit orthoK in your practice.
Learning Objectives
Corneal Topography Capture
Corneal Topography Analysis
Myopia Control
Practice Integration
Patient Selection
OrthoK Lens Parameters
OrthoK Patient Management
Program
8.00am - Welcome - Kendrew Smith
8.10am - Who is a candidate for OrthoK - Alex Petty
8.30am - Myopia Control - Amanda Rungis
8.50am - Introduction to Corneal Topography - Lachlan Scott-Hoy
9.20am - Corneal Topography Practical
Medmont have kindly supplied us with a number of corneal topographers for our bootcampers to learn how to accurately capture corneal topography on each other. Our expert tutors will be on hand to help you familiarise yourself with the equipment, and software.
10.20am - Morning Tea
10.40am - Corneal Topography Interpretation - Lachlan Scott-Hoy
11.00am - Corneal Topography Based Lens Design - Jake Brown
11.20am - OrthoK lens parameters - Gavin Swartz
11.40am - Designing and Fitting a OrthoK Lens - Kristin Pokley
12.00pm - Lunch
12.45pm - OK Molds, solutions, and lubricants - Jagrut Lallu
1.00pm - Appointment Schedule - Alex Petty
1.15pm - OK Wet Lab
The insertion, removal and assessment of OrthoK lenses is different to that of alignment fit RGP's. Attendees will be given first hand experience to the entire process of inserting, assessing, adjusting the fit, and removing orthoK lenses.
2.30pm - Afternoon Tea
2.45pm - Practice Integration - Jagrut Lallu
3.15pm - 2 years of OrthoK. What did I learn - Jason Teh
3.45pm - Do your kids need candy? - Rob Gerowitz
4.30pm - Close - Kendrew Smith
OrthoK Powwow
Experienced contact lens fitters who are keen to take their orthoK practice to the next level should attend our round table powwow. Expect presentations about the latest cutting edge developments in OrthoK and specialty contact lenses from experienced orthokeratologists from around the globe, and our resident Physicist. Learn how to successfully fit, correct, and manage a wide range of refractive error using the topography based contact lens software, EyeSpace. This full day course is limited in numbers, encourages open discussion, and will be hands on. Bring your computer, and feel free to bring any cases you wish to discuss with the group.
Learning Objectives
Advanced Corneal Topography Analysis
Corneal Topography Based Lens Design
Non rotationally symmetrical orthoK lenses
OrthoK and Astigmatism
The Physics of Corneal Topography and Contact Lens Fitting
Multifocal OrthoK
Presbyopia and OrthoK
Complexed case management.
Scleral Wet Lab
Scleral contact lenses are proving to be a fantastic modality for the correction of irregular cornea, astigmatism, high myopia and hyperopia, and advanced ocular surface disease. This workshop will cover the latest lens designs, materials, imaging, research and management. Don't want to listen to theory all day long? Being a Wet Lab, you will learn how to insert, assess, image, and remove Scleral lenses on real people!
Learning Objectives
Scleral Lens Design
Assessment of Scleral Lenses
OCT and Scleral Contact lenses
Scleral Lens Management
Insertion and Removal of Scleral Lenses
Care and Maintenance of Scleral Lenses
How to fit Scleral Lenses
Speakers
Dr Rob Gerowitz (USA)
Charl Laas (South Africa)
Jagrut Lallu (New Zealand)
Lachlan Scott-Hoy (Australia)
Alex Petty (New Zealand)
Kristin Pokley (USA)
Jake Brown (Australia)
Jason Teh (Australia)
Amanda Rungis (Australia)
Gavin Swartz (Australia)
Click here to register.